Slow Roast Sweet Chilli Sauce
SRS1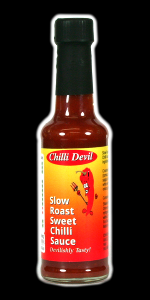 Not to be compared with 'supermarket' sweet chilli sauces! A full flavoured Sweet Chilli Sauce made with slow roasted tomatoes and chillies.
Serving Suggestions: Use as a dipping sauce, a marinade or to liven up a stir fry or a snack. An endlessly versatile store-cupboard item - but you probably will not 'store' it very long!
Ingredients: Tomato, sugar, chillies, white wine vinegar, onion, garlic, lime.
Contents: Min 160g.
CHILLI VARIETY: Habanero
HEAT LEVEL EST SHU: 7,500
MADE WITHOUT ANY GLUTEN CONTAINING INGREDIENTS: Yes
VEGETARIAN / VEGAN: Yes