Chilli Sauce Making Experience Day
CSM001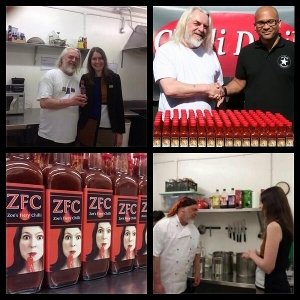 Come to Chilli Towers and make your very own chilli sauce!
Spend the day with the Chilli Devil, formulating and making your very own chilli sauce. You'll leave with a whole batch of freshly made, bottled and labelled sauce to give to your friends, sell for the benefit of the good cause of your choice, or just hog to yourself! Chilli Devil Sauce Making Experiences are bespoke arrangements, suitable for individual gifts or team building exercises.

Click here for a brief description of one of our chilli experience days and here for a typical timetable for a chilli sauce making experience day. Check out the chilli sauce making experience FAQ page too for detailed info!

This chilli experience day is not a class-room style do-as-you-are-told experience - as many experience days are in reality - this is an opportunity for you (or you and your friends) to create a genuinely unique product to a professional standard, with all the resources of Chilli Towers and The Chilli Devil himself at your disposal all day. You don't even need to have a clear idea of what sort of sauce you want to make when you arrive, because we'll start with a tasting session and a blank piece of paper, so that you can define what we are going to make!
Use the links above for more info, or call Ian on 01482 961 666, or drop into the bar in Manor Street!